---
Equigest Plus - Powdered product based on live yeast - Viozoiki Equitation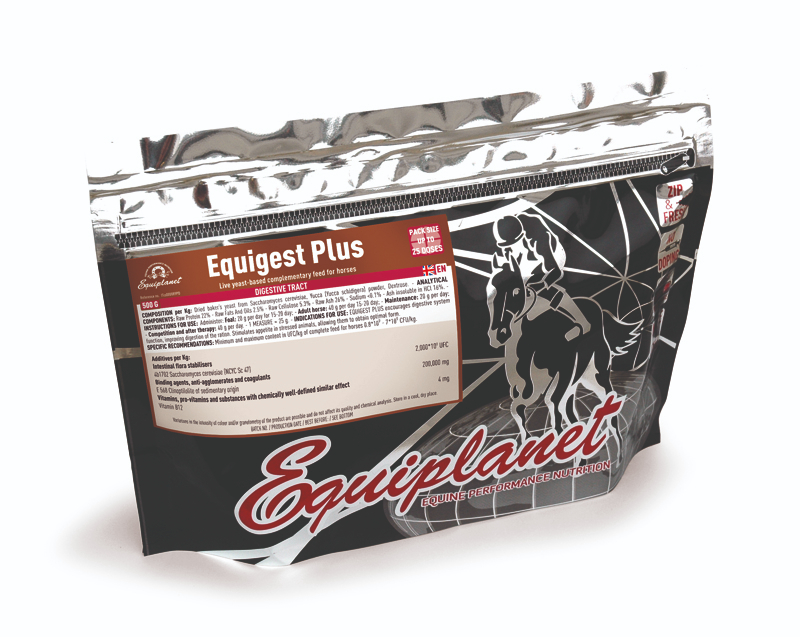 ID: 1129
Code: TEC-0016
Price: 27.00€
---
Product Description
Equigest Plus by Equiplanet
is based on live yeast NCYC Sc 47 which is the only one authorized for use in horses. The live yeast interferes with the colonization of pathogenic bacteria instead favoring the useful ones. Equigest Plus also contains a particular strain of dried Saccharomyces Cerevisiae that develops in the substrates deriving from the fermentation of sugar cane. These two combinations significantly improve intestinal efficiency.
COMPOSITION:
Saccharomyces cerevisiae (NCYC Sc 47) 2.000 * 109 UFC, Sour-dried yeast from Saccharomyces cerevisiae - Yucca (Yucca schidigera) - Vitamin B12 4 mg. 
For the complete composition, see tag.
RECOMMENDED ADMINISTRATION:
1 scoop = 25 g. 
Foal: 25 g per day for 15-20 days. 
Maintenance: 25 g per day. 
Pre-race and after therapy: 50 g per day for 15-20 days
---
Printed in 27/11/2021
From the web page Viozoiki Equitation
viozoiki.gr/en/products.asp?pid=1129